Power Jacks Bolsters Senior Management Team in Record Year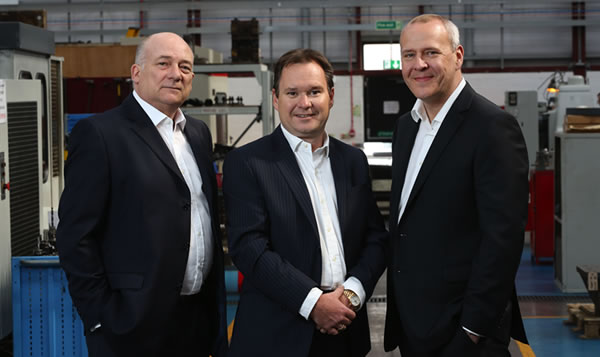 The company has also bolstered its senior management team in order to meet growing global demand for its products and services, particularly in the oil and gas sector.
Keith Mackie takes up the newly-created role of deputy managing director while Ian Porter has been appointed operations director. Both bring extensive operational oil & gas expertise with Keith joining Power Jacks from Cosalt Offshore and Ian having previously worked for GE.
Power Jacks, which is headquartered in Ellon, Aberdeenshire, specialises in producing world-class industrial lifting and positioning equipment including screw jacks, actuators & lead screws.
"To attract two high-calibre people as Keith and Ian to Power Jacks is a significant endorsement of the business success and key to our plans for continued growth. The company invested in a state-of-the-art, purpose-built manufacturing facility at Ellon and within three years, we are already starting to reap the rewards with plans to expand further over the next three to five years." Bruce Bultitude
Bruce Bultitude, chairman and managing director at Power Jacks, said: "We are expanding across a number of industries with a particular focus on the subsea and topside sectors of the oil & gas industry where we are experiencing a sharp increase in activity for our core electro-mechanical products. There would appear to be a step-change in the industry to move away from hydraulic to electro-mechanical solutions which can offer safer, maintenance free and more environmentally-friendly solutions for lifting and positioning of high loads. "Strengthening our management team is a key part of our strategy for sustained growth with Keith and Ian each having a key role to play in further driving forward our international business operations. Together, they have an impressive track record in operational experience in oil & gas services which, combined, spans more than 60 years."
Formerly operations director at Cosalt Offshore, Mr Mackie was responsible for overseeing the scheduling, management and delivery of operations, with a focus on ensuring quality management of safe, efficient and timely operations across the company's range of integrated lifting services.
Prior to this, Mr Mackie held senior positions with Fisher Offshore Ltd, Stats Group (UK) Ltd, International Paper (UK) Ltd. & WYKO. Mr Porter was formerly oil & gas subsea manufacturing executive at GE where he led the company's global manufacturing operations including its subsea trees and controls. With more than 35 years of manufacturing and operational experience, the last 22 have been with GE various divisions including GE Oil & Gas, GE Energy and GE Aviation.
Power Jacks' market activity spans more than 70 countries and a diverse range of industries from aerospace, defence and industrial auto-motion solutions to civil engineering and energy including renewable, oil & gas.
Among the company's high-profile portfolio of more than 5,000 clients are blue chip companies such as Airbus, BAE, Cadbury, Diageo, Ferrari & Red Bull Racing, Glaxo, ICI, Rolls Royce, Unilever, and major oil and gas companies.
Over the last 20 years, the company has also trained more than 50 apprentices in mechanical and machinery disciplines ranging from assembly to electrical while it currently has five apprentices under its training wing with plans to recruit up to three new apprentices each year.