An updated E-Series Screw Jacks brochure is now available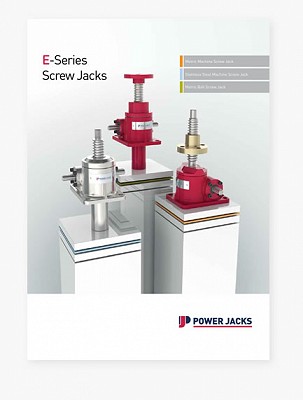 The Metric Machine Screw Jack is available in many standard models with a wide range of capabilities; there is a standard model for almost any requirement
The Stainless Steel Machine Screw Jack is designed for use in harsh and corrosive environments.
The ball screw jack version provides a high efficiency screw jack delivering higher performance or reduced power consumption.
The new look brochure provides detailed information on the Metric Machine Screw Jack, Stainless Steel Machine Screw Jack and Metric Ball Screw Jack.
The E-Series Screw Jacks range in capacity from 5kN to 1000kN as standard, with translating and rotating options.
Application examples, performance data and dimensions are provided in the brochure. As well as this, special designs, screw jack accessories and an Engineering Guide are included.
The English version of the brochure is now available to view and download from our website.