Power Jacks Has It All Configured Out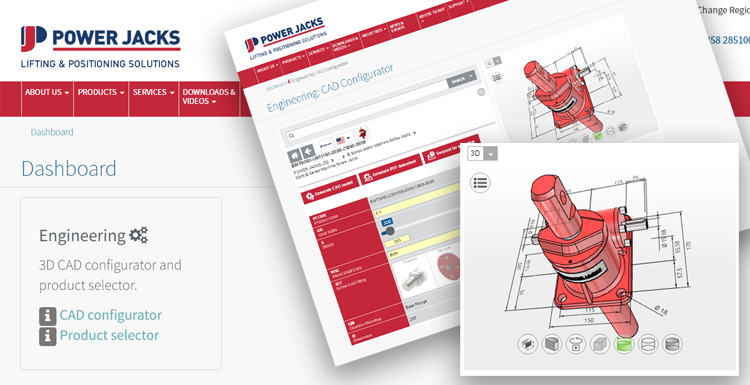 Lifting and positioning specialist Power Jacks has introduced a new online engineering tool for customers with designs on instant access to the company's product portfolio.
The innovative portal system means design assistance or product selection is available to customers anywhere in the world, 24/7.
"It's our way of empowering customers who want to benefit from Power Jacks' capabilities and expertise, and want to do so swiftly and efficiently," says Marketing Director Bruce Hamper.

"For businesses located overseas, or with multiple international bases, we believe this online engineering resource is a genuine problem-solver – an immediate solution when timescales are tight and product reliability is paramount."
The Power Jacks Portal – accessed via the company's website www.powerjacks.com – offers a single point of access to twin services:
a CAD Configurator, enabling users with a sound technical knowledge of their requirements to select a product type and then tailor it to their specific needs. From there, a CAD model can be downloaded in 3D or 2D in virtually any native format and a dynamic data sheet generated.

a Product Selector, allowing customers with less technical knowledge to enter their application parameters and let a built-in engineering intelligence system recommend the optimum product solution. The system then generates a CAD model and datasheet along with a summary of calculated values.
The portal has a user-friendly dashboard facility and all its capabilities can be accessed via a single log-in – all customers have to do is register on the website.
"We're pleased to be adding this new dimension to our customer service capabilities," adds Bruce. "We understand the issues and challenges our customers can face, and we believe this new online engineering resource helps them to address those."
The service initially includes products for machine screw jacks, ball screw jacks, stainless steel screw jacks, linear actuators, bevel gearboxes and load links. However this is set to be enhanced as further products and system-building accessories are added.
Power Jacks has chosen to base the portal on the CADENAS engine. "CADENAS is one of the worlds leading software company in the development of CAD part systems and their delivery worldwide via the internet," says Bruce. "Its commitment and development strategy mean our customers will have access to the best systems, using the latest technology. More than that, CADENAS has a global support structure in place to support our international customer base."
About CADENAS
CADENAS is a leading software manufacturer in the areas Strategic Parts Management and parts reduction (PARTsolutions) as well as Electronic Product Catalogs (eCATALOGsolutions). With its customised software solutions, the company acts as a link between the component manufacturers and their products and the purchasers. www.cadenas.de