Maintaining the Tension in Subsea Cable Laying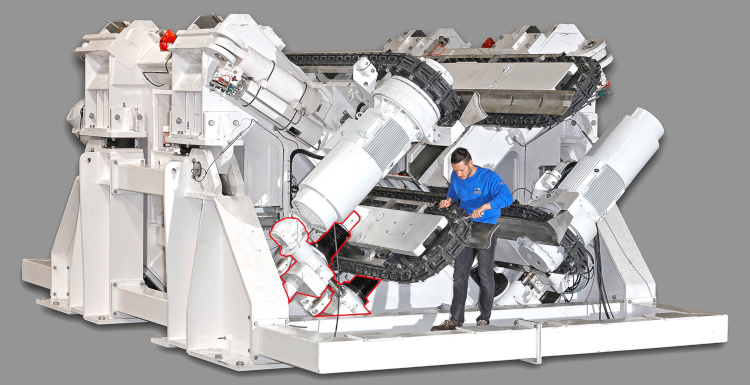 For submarine cable laying maintaining tension in the cable within required tolerances is critical during the laying process to minimise the risk of cable damage due to cable cores being crushed or the minimum bend radius being exceeded.
To regulate this tension specialist machines are used to handle the cable as it is laid. One such machine is the 45Te 4-Track Tensioner made by MAATS Tech Ltd, which features electro-mechanical screw jacks for the positioning of the lower tracks.
This precision machine is designed to perform bi-direction cable lay and recovery operations using 4 tracked drives that can handle cable up to 460mm in diameter, at speeds of up to 1200 m/hr and apply a cable tension of up to 45Te.
The four drive tracks are arranged in 45-degree diagonal opposing pairs and engage with 4.94m of cable that passes between the tracks. Each track is individually driven and can be individually positioned for a precise grip & tension. The four points of contact in the 4-track tensioner give a more even grip around the cable circumference.
The upper tracks are actuated by hydraulic cylinders and the lower tracks are positioned by electro-mechanical screw jacks. The use of screw jacks on the lower tracks gives this MAATS tensioner the advantage of more accurate positioning for better tension control compared to hydraulic only systems. The screw jacks that position the 2 lower tracks consist of 4 sets of jacking system pairs. With one jacking system installed at each end of the lower tracks. Each system is a pair of screw jacks mechanically connected and driven by an electric motor with speed and position feedback coming from an absolute encoder. With 1 motor revolution equal to 0.06mm linear movement, the system can provide some very accurate positioning. By using pairs of screw jacks the track is supported on each side for an even load distribution over the structure.
The screw jacks used are variants of Power Jacks precision 500kN E-Series Machine Screw Jack (type EMT0500) that have been specially adapted for the tensioner. Within each screw jack system one screw jack has an integrated geared motor drive and the other an absolute encoder. The electric motor includes an integral brake to guarantee the screw jacks can be locked in position in addition to the jacking systems being naturally self-locking. The ability to self-lock is a feature screw jacks can offer so that position can be maintained even when there is no power. The screw jacks are mounted on pivoting points with a trunnion mount at the screw jacks gearbox and a clevis end on the lifting screw. Their design is marine rated and fully certified and approved by DNV (Det Norske Veritas). A process which included load and operational testing.
Throughout the project Power Jacks team of specialist engineers worked closely with MAATS to ensure the best design was provided on schedule.
Managing Director of MAATS Tech Ltd, Lisa Edwards, said: "Our projects require timely delivery and great flexibility when it comes to schedules, Power Jacks have always accommodated all our requirements for timely delivery and we regard them as a trusted and continuing supplier."

Managing Director of Power Jacks, Keith Mackie adds: "This is an interesting marine application for our screw jacks that once again demonstrated how our expert team of engineers can work closely with a client to deliver the best solution".
The MAATS 45Te Tensioners are in service on Cable Laying Vessels (CLV) such as the state of the art ABB vessel the CLV Victoria.