Power Jacks screw jacks used to open and close 70m doors on the Ariane 6 Mobile Gantry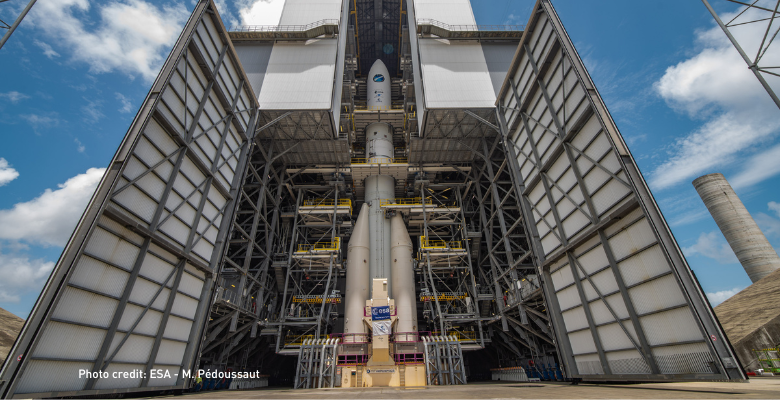 Background Power Jacks has supplied a number of customised screw jacks to Jewers Doors on behalf of end client, the European Space Agency, to actuate the 70m-high doors on the Ariane 6 Mobile Gantry in French Guiana. The gantry is able to move forwards and backwards along rails and will provide access to the launch vehicle for integration on the launch pad. It will protect Ariane 6 until its doors are opened and will be retracted about five hours before the launch.
There are 10 electro-mechanical screw jacks fitted across the upper and lower doors with six identical 50-ton jacks fitted to the upper doors and four jacks ranging from 100-150 tons fitted to the lower doors. All the screw jacks used in the opening and closing of the doors are customised items to solve and combat a range of potential challenges that come with operating doors of this scale.
Challenge One of the main challenges was around the loadings on the doors. As well as the weight of the door itself the wind loading also had to be taken into consideration which can cause the door/screw jacks to go into compression or tension, so the screw jacks had to be sized to cope with the varying loads.
Solution Several modifications were made to suit client requirements. One example of this was the modification of the clevis into a barrel shape rather than cylindrical to allow for any misalignment. Another modification that was made was a double start screw rather than a single so for every revolution input into the jack there is twice as much movement to maintain the gear ratio which increases efficiency by keeping the motor smaller.
The gear motors used within the system were selected by the client and sent to Power Jacks' facilities to be bolted onto one side of the flange. On the other side the flange the screw jack can accommodate an emergency auxiliary motor in the case of failure of the gear motor to enhance safety.
The Ariane 6 rocket launch is scheduled for 2023.