Power Jacks Career Journeys: Leeann Thomson, Commercial Sales Manager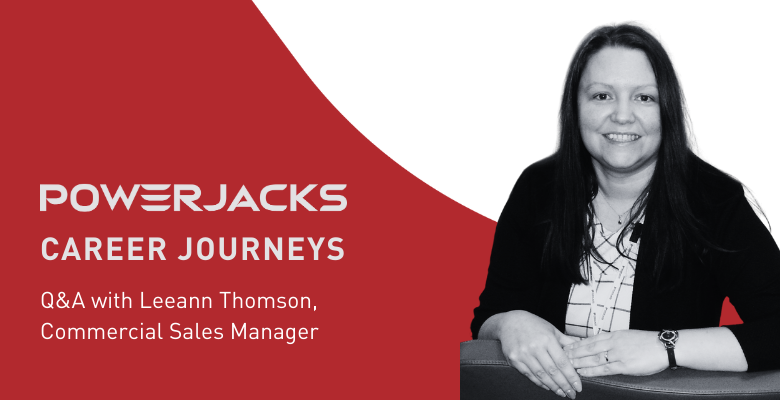 As part of our Power Jacks Career Journeys series we spoke with our Commercial Sales Manager, Leeann Thomson. Leeann has worked in our sales team since 2015 and was recently promoted into her current role where she is driving value into the sales team and ensuring our customers receive the best possible service throughout the entire buying process.
Can you tell me about your current role and your Power Jacks career journey to date?
I first started with Power Jacks as a Customer Service Coordinator in January 2015 before moving into the role of Account Manager where I managed dedicated customer accounts and was responsible for developing proposals and building customer relationships. I was recently promoted to the role of Commercial Sales Manager where I now deal with the majority of proposals for our specialised projects. In this new role I am now also taking on more managerial responsibilities, helping to add value to our team and contributing to the business' wider strategy.
How have you seen the business change in the last 7 years?
There's been a lot of change over this time with the biggest being our move from Ellon to our newer facility in Westhill. This increased our capacity and capabilities so we were able to expand our product range and this meant for us in the sales team, there were big changes to what we were selling.
We've also had a lot of changes to our team over this period but this has stabilised over the past few years and we now have a really well rounded and solid sales team that work so well together.
What initially attracted you to a career at Power Jacks?
I'd been aware of Power Jacks for a few years prior to applying for the role. It was at a time in my career where I was thinking about what I wanted to do next and the vacancy with Power Jacks came at the perfect time.
My initial attraction to the business was the fact Power Jacks is a manufacturer and sells what they make. This means that you have ownership over the project and can better help the customer achieve what they need. We are in the position to offer a bespoke service to our customers and can modify and adapt our products so our products offer the best performance, precision and control within each specific application. Ultimately this leads to happy customers which in turn creates satisfaction having seen the positive outcomes you have helped achieve.
What do you enjoy the most about your role and working at Power Jacks?
The main thing I enjoy about the role is the variety of enquiries we deal with. These can be anything from our standard products through to completely bespoke jobs for the nuclear and defence sectors and even niche little products such as lifting systems for swimming pools on luxury yachts. The majority of enquiries we receive are for bespoke systems so there's a great level of engagement with the customer when we are trying to figure out what challenges we have to solve and how we overcome these.
In terms of Power Jacks as a whole it really is a great company to work for. In terms of people it's a small business but for us this works well as everyone knows everyone and how each other like to work. There's a great team camaraderie which makes every day enjoyable and with the nature of the job and the variety of work it's an engaging environment which people seem to really thrive in.
What piece of advice would you give to someone starting out in a sales role?
Always listen to your customer. For me, this has always been one of the biggest priorities and I'm a massive advocate for customer service. If you put your customer at the forefront of everything you do, you're going to keep them happy and they'll keep coming back. One thing I try to encourage with the team at Power Jacks is to think about scenarios when they are the customer and how they like to be treated. I always think that as long as you talk and listen to a customer in a professional manner it will go a long way.
If you could work a day in any of the roles at Power Jacks what would you like to try out and why?
Packing and dispatch. That might sound strange but as my role sits at the front end of the business and is focused on securing the orders it would be good to see these orders at their final stage all packed up and ready to go to the customer. Just for a day though!